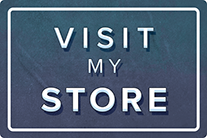 Cuticle Glaze is my own hand-mixed blend of moisturizing oils including jojoba, sweet almond, avocado, and shea oil. I originally created Cuticle Glaze for personal use. I wanted an oil blend that would be very moisturizing for my nails and cuticles. This blend of oils soaks into nails and the surrounding skin to moisturize from within.
Properly moisturized nails tend to break less, peel less, and polish will last longer! Every time you wash your hands, essential moisturize is washed away leaving your hands dry and peeling. Replace that much needed moisture with a few drops of Cuticle Glaze to keep your skin and nails smooth, soft, and well moisturized.
Cuticle Glaze comes in three different scents plus an unscented for those who prefer all natural products. The three scents include:
Sugar Glaze
: Sugar Glaze smells as sweet as it sounds with notes of Raw Turbino Sugar, Lemon Zest, Meringue, Whipped Cream and Madagascar Vanilla. Your fingers will smell like candy, and in a totally good way!
Glazed Lemon
: This is not your typical lemon scent. This fragrance contains notes of Italian Bergamot, Lemon Verbena with Primrose and Violet. This blend dries down with notes of Amber, White Musk and a hint of Peppermint. This is a very clean scent and is not overpowering.
Glazed Christmas Cookie
: My Personal Favorite - This fragrance contains notes of caramel, cream, a hint of nutmeg and praline. It also contains base notes of cocoa and vanilla. This fragrance smells yummy enough to eat!
My products are preservative free and never tested on animals.
I also have two different sizes available: the 11mL rollerball and the 15 mL glass dropper. The rollerball is perfect for your purse or pocket when on the go. The glass dropper is perfect to keep next to your bed or at your nail table.
11mL Rollerball
15mL Glass Dropper